Earl Devereaux
Comments

0
185pages on
this wiki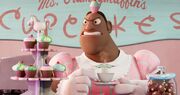 Earl Devereaux is the Swallow Falls policeman. He is Cal Devereaux's father and Regina Devereaux's husband.
Appearance
Personality
He is a very athletic and overprotective man who takes his job as an officer of the law very seriously and with pride and always enjoys performing over the top athletic and action poses whenever possible, and he is very proud of his masculinity and enjoys being as manly as possible and dislikes the thought of actually showing tears (having once even sucked a tear back into his eye with sheer force of will). He is also a very caring and loving family man who loves his wife and son very much and is willing to do anything for them and never ceases to remind his son just how much he cares about him. He also cares a lot about the safety of the people of Swallow Falls and even helped organize and evacuation during the "Food Hurricane" the FLDSMDFR has created.
History
TBA
He helps Flint on his mission.
Trivia
He was originally intended to be a gym coach who was also a volunteer policeman, therefore the reason why he's an athletic.